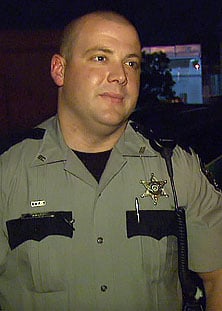 Deputy Chris Tucker spots a stolen vehicle that was just broadcast on the radio 20 minutes earlier. Deputy Tucker

 follows the stolen 

jeep

 with his lights blacked out to give backup units time to get into position. Once Deputy Tucker activates his lights the 

jeep

 takes off and a 5 minute car chase ensues. The

 pursuit ends

 on a dead road and both suspects flee on foot. Deputy Tucker chases both and can only catch one of the suspects that happens to be the passenger. The passenger claims he was just getting a 

ride

, after further investigation 

Deputy Tucker

 finds plastic gloves and the GPS unit from the stolen jeep in his possession. The suspect is booked for grand theft auto and sent to jail.
| | |
| --- | --- |
| Name | Chris Tucker |
| Rank | Deputy |
| Agency | Richmond County Sheriff's Office |
| Station/Area Command | North Precinct C-Shift Augusta, GA |
| Age | 29 |
| From | Augusta, GA |
| Hired | 2009 |
| Why Law Enforcement | I've held several jobs and learned quickly that you have to enjoy what you are doing as far as a career in life. That being said, I was interested in Law Enforcement from an early age. |
| Hobbies | Going to the gym, sports, and shooting firearms (the bigger the better). |
| Favorite Quote | Don't talk about it, be about it… "Team Ruckus" |