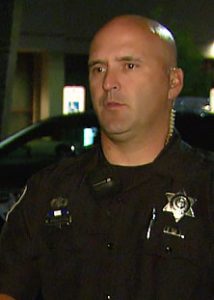 Officer Anderson responds to a call of a disturbance involving a male suspect running down the street with a firearm. After making contact with the suspect, he's clearly out of breath and claiming he's  been chasing after a couple guys who were trying to break into his house and install fiber optic wires. Officer Anderson asks him a few more questions and believes he may be under the influence of narcotics. Eventually, the suspect admits he recently took what he believed was bath salts that his son gave to him. He then goes on to point out that there were more fiber optic wires right by his feet. After conducting a search of suspect,  multiple pieces of tin foil containing bath salts were found on his person. The suspect was arrested for possessing a controlled substance as well as paraphernalia. 
Officer Wayne Anderson with Boise Police Department is dispatched to welfare check call. While approaching the trailer he can see people inside smoking meth through the window. After backup arrives 2 male suspects exit through the back door and are both detained. Officers then knock on the front door and have the remaining suspects come outside. Once searched, brass knuckles and pocket knives and found on our suspects. After talking to mom who was smoking meth with her son inside, officers recover the remaining drugs. Mom tells Officer Anderson that inside her Bible is a dollar bill with meth in it. Weed and other drug paraphernalia is also found throughout her bedroom. On her bed is a photo of mom when she was a little girl with a line of meth on her face, Officer Anderson asks her if she thinks it's weird to be snorting lines from her own face. The remaining suspects are all brought back inside and charged with felony possession and are given court dates to appear.
Officer Wayne Anderson with Boise PD responds to a call of an Officer needing assistance. Upon arrival an Officer Neville has a suspect detained for possibly being involved in a fight. As Officer Anderson talks to the suspect he begins to get nervous about officers searching his vehicle. K-9 is called out to the location. Officer Wayne asks our suspect if their are any drugs or paraphernalia in his car, after some time he admits to having a weekend party kit in his trunk. A large bong, other pipes are found inside along with marijuana and synthetic urine. The suspect voices his opinions on marijuana use, Officer Wayne explains he understands there are different opinions on marijuana, but the law is what it is in Idaho. He further states because of his cooperation this is why he's giving him a ticket only and he will get his opportunity to explain his opinion to the judge.
| | |
| --- | --- |
| Name | Wayne Anderson |
| Rank | Patrol Officer |
| Agency | Boise Police Department |
| Station/Area Command |   |
| Age |   |
| From | Ontario Oregon-Pocatello Idaho |
| Hired |   |
| Why Law Enforcement | Friend in Houston Texas who was a Constable encouraged me to pursue the career. |
| First Arrest | As a Cadet we responded to a large fight at a dance. The crowd turned on the Officer I was riding with so I used my side handle baton to strike several people trying to get the Officer. The Officer was impressed enough of my instinct with no experience as a LEO that he asked the Chief to hire me. |
| Best part of the job | Have always loved the hunt. Looking for people up to no good then catching the suspect in the act is what has always made patrol so intreging. |
| Hobbies | Hunt, fish, softball, shoot, hike, ski , watching the St. Louis Rams! |
| Favorite Quote | I have stolen a quote a female suspect told me once, "they were all causing an Upruckus". |