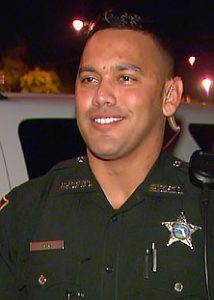 Deputy Mata see's a white Buick making a traffic violation. At first, driver appears to be trying to evade Deputy Mata but pulls to a stop. Deputy Mata confronts the suspect and asks suspect for consent to search the car. Suspect give consent and Deputy Mata finds Xanax and crack cocaine under the drivers seat. The suspect denies that the pills are in fact drugs and becomes very fidgety with deputies. Placed in cuffs the suspect denies any knowledge of drugs and asks for his mother to be called. Suspect claims crack belongs to his mother. Arriving the mother says her son has a pill problem and deputies believe the crack is not hers. Mother talks to son who continues to deny everything and asks for her to bail him out.  Suspect is charged with possession of crack cocaine.
Deputy Mata responds to a radio call from a plain clothes deputies that witnessed a drug transaction across a busy street. Deputy Mata drives up and detains a male with drugs in his pocket. He admits to buying Molly, but says the crack cocaine was a gift.Deputy Mata changes locations to the second scene where deputies stopped a Green Taurus and discovered two guns and small amount of crack cocaine. The driver and passenger don't admit to anything. The original suspect is charged with possession. The driver and passenger are charged with gun and drug possession.
Deputy Mata is dispatched to a residence where two 911 calls say a white male is attempting to break into a home. Arriving, Deputy Mata detains a subject that claims he is there to visit girlfriend/fiance.  The female homeowner claims the man is former boyfriend and has been previously trespassed from the location. She says he is crazy and stalks her at work. The male is arrested for violation of a trespass order. The female talks to suspect to tell him its over and to stay away.
| | |
| --- | --- |
| Name | Yariel Mata |
| Rank | Deputy |
| Agency | Pinellas County Sheriff's Office |
| Station/Area Command | North County |
| Age | 30 |
| From | CUBA/KEY WEST FL |
| Hired | 06/2012 |
| Why Law Enforcement | I was robbed at gun point by two subjects while working for the Fire Dept. I felt a strong calling into law enforcement after that incident. |
| First Arrest |   |
| Best part of the job |   |
| Hobbies | /Swim/race cars etc… |
| Favorite Quote | "The only thing necessary for the triumph of evil is for good men to do nothing" |