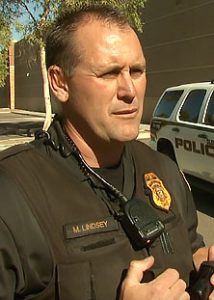 Officer Mark Lindsey of the Neighborhood Response Squad is notified by a detective that a suspect with a felony warrant has been spotted walking down a main street. Officer Lindsey pulls up and stops the young man. The suspect gives a false name, yet answers to his real name of "Ivan". Eventually, the suspect admits to his real name and is taken into custody. Once in custody, the suspect becomes animated and begins to rap. He is taken to jail for his felony warrant.
Officer Mark Lindsey and Officer Jeff Pittman investigate a truck parked on the side of the road with no plate and a male in the drivers seat. The male occupant states that he's having issues with the truck and that he's waiting for a mechanic friend to return from the nearby trailer park to help out. The man begins to act nervous when questioned and is asked to step out of the vehicle. He becomes non compliant and is forcibly removed from the truck. Brass knuckles and two knives are found on his person.
Officer Lewis and Officer Lindsey respond to a call of a man yelling at and banging on cars at a gas station. Once they arrive they see the suspect on the phone very upset. Officers make contact with the suspect who turns out to be quite a character. He says he was just fired from his job which got him all fired up. It's pretty clear he's high on something and doesn't give us consent to search his vehicle. K-9 unit is called out and a positive hit is made on his vehicle. After searching, heroine is found inside along with Viagra pills which makes for a humorous response from our suspect. He's booked for disorderly conduct.
Officer Mark Lindsey responds to a call of a shoplifting in progress. As Officer Lindsey arrives at the department store he gets an update that the suspect is still inside putting items into his clothing. Another officer makes his way into loss prevention to monitor the suspect and to let Officer Lindsey know which exit he's headed towards. The suspect appears running full speed from the Officer inside the store. Officer Lindsey is in place and spear tackles our suspect and drops him to the ground. Later the suspects mother who was also inside the store looking for him shows up unaware and shocked that her son was being arrested and transported to Jail.
| | |
| --- | --- |
| Name | Mark Lindsey |
| Rank | Patrol Officer |
| Agency | Glendale Police Department, AZ |
| Station/Area Command | Foothills |
| Age | 42 |
| From | Phoenix |
| Hired | 06/2008 |
| Why Law Enforcement | Got into it as a second career after working 15 years in the advertising world. Something I always wanted to do. |
| First Arrest | It was a family fight. After all interviews, the husband was arrested for domestic violence assault. |
| Best part of the job | Every day is different. I also get to meet interesting people every day |
| Hobbies | Golf |
| Favorite Quote | " God gave you two ears and one mouth. Listen twice as much as you speak " |