While on patrol, Deputy Dilling of the TAC Unit, hears his Lieutenant is pursuing a vehicle for failing to yield. Deputy Dilling arrives to location where the vehicle is stopped, and the driver is pulled out and placed in cuffs. The passenger, who is the brother to the driver, tells deputies of his sibling's drug problem. He informs deputies that his brother put something in his mouth before stopping. Deputies inspect the drivers mouth where they discover small crack cocaine rock. The driver is arrested for driving without a license, possession of a controlled substance and tampering with evidence. The brother is released.
Deputy Lincoln Dilling and Sgt. Dan Tutko, (both of the TAC Unit), follow a pick-up truck that has committed several moving violations. When Sgt. Tutko lights up vehicle, he sees the right male passenger toss several small crack cocaine rocks out his window. After Deputy Dilling detains him, the passenger denies he tossed anything out window. The female passenger at first denies any wrong doing but after several minutes admits the male passenger gave them a crack rock in exchange for a ride. The female says she dances at a local strip club and after a long shift sometimes likes to do drugs to take the edge off. Both female and passenger are arrested for possession of a controlled substance. The driver is released.
Deputy Dilling, 

of the Sarasota County Sheriffs Office TAC Unit

 tries to conduct a traffic stop on a vehicle that commits an illegal left turn. The driver pulls away which begins a pursuit. After several minutes the car crashes making right turn. The driver runs off, while the passenger gives himself up and is detained. Deputy Dilling along with K-9 officers of the Sarasota Police Department begin a search for the driver. After a short distance they locate him hiding on side of building. The driver is arrested for aggravated fleeing to elude, no driver's license, leaving the scene of an accident and resisting arrest without violence. The passenger is released to his Mother.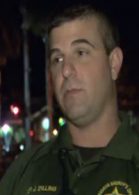 Deputies Tuggle & Dilling, of the Sarasota County Sheriffs Office TAC Unit make a traffic stop on a car for moving violations after seen leaving and area known for narcotics. The driver says his license has been medically revoked. The occupants are asked to exit the vehicle, and K-9 TAC Unit Deputy Ellis deploys his narcotic dog Sadie. The K-9 alerts to the presence of narcotics in the vehicle. After a long search of the car yields nothing, deputies begin to search suspects more thoroughly. The passenger is agitated when deputies ask them to remove socks. Deputies find drugs in socks and arrest passenger for possession of meth and paraphernalia, the driver is released.
| | |
| --- | --- |
| Name | Lincoln Dilling |
| Rank | Deputy |
| Agency | Sarasota County Sheriff's Office |
| Station/Area Command | TAC Unit |
| Age | 35 |
| From | State College PA/Cape Coral Fl |
| Hired | 09/2010 |
| Why Law Enforcement | Something I always wanted to do for as long as I can remember. |
| First Arrest | Domestic Battery was my first arrest. Got to the scene and it was obvious that the husband had battered his wife. I separated them both and was able to confirm that he did in fact batter his wife. |
| Best part of the job | Coming to work with a great group of guys in a very proactive unit that puts the real bad people in jail. |
| Hobbies | I enjoy golfing, tailgating and spending times with my friends and family. |
| Favorite Quote | 10-9 "Repeat Last Transmission" |